Wilderness Medicine Didactics
Drs. Moultray and Dawson (faculty), and Kari Hoover (APC Clinic Provider) took the classroom outside for a Wilderness Medicine Workshop at the Big Pines campground in the Yakima River Canyon. Residents were taught some low resource medicine skills, including topics such as pre-trip planning, initial decision making, field splinting, altitude illnesses, hypothermia care, and bleeding treatment. Residents were provided the following case study prior to the workshop.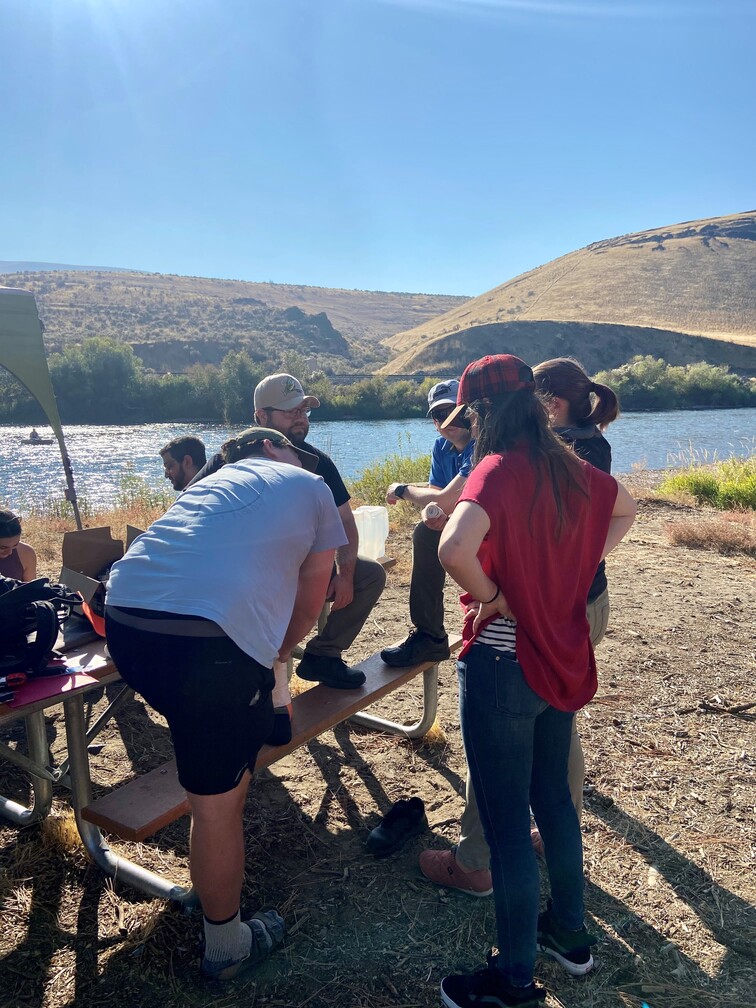 Background: You and some friends want to go hiking and decided to summit Mt. St. Helens. The Mt. St Helens summit sits at around 8,300 feet of elevation, and it is a challenging but non-technical climb that is within the ability of most generally fit hikers in the summer. The summer route starts at Climber's Bivouac and travels up the mountain via the Monitor Ridge Route. There are several boulder fields and an ash field some hikers refer to as the "vertical beach" on the way to the summit. Most hikers will spend about 8-12 hours on this hike.
Situation: Mary is a 42-year-old hiker who fell and broke her arm near the Mt St Helens summit. She is generally fit and hikes regularly, with no known chronic health complaints. She lives at sea level and most of the hikes she does are around 4-6,000 feet of elevation. She is hiking with a friend, but they didn't bring any medical equipment. She does not have any known drug allergies and states that she is in a lot of pain. Her left arm is bleeding and she is attempting to use her right arm to support the left arm, which is obviously broken. 
Notes/Considerations: 
Here is a link to a

 

Google drive with photos of the terrain. There are also two videos, one taken at the crater rim, near where Mary's accident occurred, and one demonstrating movement through the boulder fields that are numerous at Mt St Helens. (If you have problems with dizziness/motion sickness please skip the videos).
Pay special attention to the

 

weather forecast

 

– mountain weather changes frequently and you also need to plan for elevation effects. Mt St Helens has forecasts for three elevations and the Monitor Ridge Route passes through all of them.
Cell reception is extremely spotty even at the summit. You will likely not be able to make voice calls, and you may or may not be able to send/receive texts.
You should always have the

 

Ten Essentials

 

when you are in the backcountry!
Pre-Trip Planning Considerations:
What are the skills/abilities of the people you are going with?

 

What equipment do you need to bring in order to go safely?
Is there a water source on the trail? How will you purify the water source?
What is the weather before, during and immediately after your trip?
Has the group agreed on a turn around time? Do people have equipment to stay out overnight if needed?
Is there a trip plan with emergency contacts identified? Is there an emergency communication plan?
What kinds of medical emergencies are you expecting? What gear should you bring?
How much food are you carrying?

 

Are there any known medical conditions/pre-existing conditions/allergies in the group?
General Considerations for Outdoor Recreation in WA:
WTA.org

 

has a hike finder map and each hike page has a ton of information including recent trip reports, which parking passes are needed, which maps cover the hike area, driving directions to the trail head, and a link to the local weather station closest to the hike. The overview page also typically has elevation and hike distance, some photos, and a brief description of the hike.
In winter (snow starts in the mountains usually mid-October, some hikes remain snow covered until mid-June or so),

 

you need to check the

 

avalanche forecast before you go (there is also an Avalanche Forecasts app available).

 

Typically the risk is higher at the shoulders of the season. If you are going to a resort, often the ski patrol will work to manage the avalanche risk but avalanches can still happen in bounds. If you are going to the backcountry you are responsible for assessing avalanche conditions for yourself. AIARE has some great educational courses you can find at

 

https://avtraining.org/

 

if this is something you are interested in.
There are tons of great places to go hiking, mountain biking, kayaking, river floating, and pretty much any other kind of recreation you are looking for. Some of these places are also dog friendly. Leash laws exist but are often not strictly enforced.
Gaia,

 

CalTopo,

 

TrailForks, and

 

OnX

 

are all examples of mapping applications. They work great, as long as your cell phone has a functional battery. You typically need a paid membership to access these offline (i.e., if you want to navigate in the backcountry). If you don't know how to read a paper map, please let one of us teach you (and bring some group members who are confident map readers).