CWFMR is ACGME Accredited with Osteopathic Recognition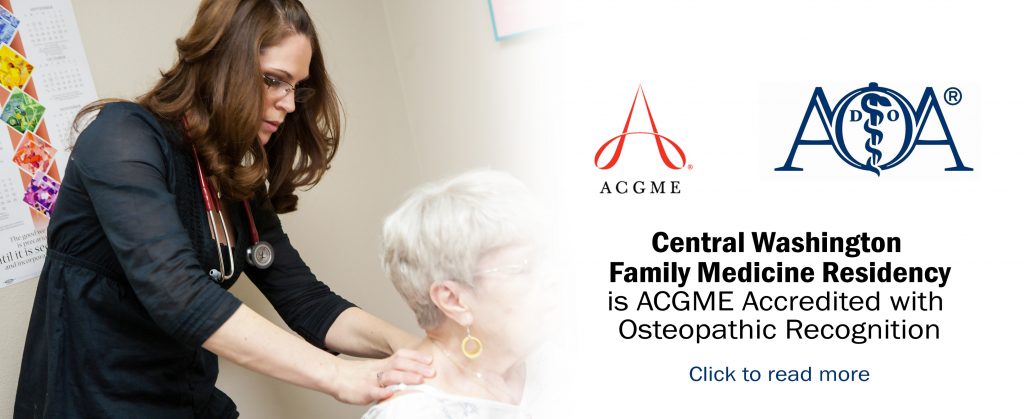 CWFMR has been dually accredited since 2005, the oldest dually accredited program in WWAMI. For years our osteopathic residents have graduated, and will graduate, with dual board certification.
As such, we've always been on the forefront of osteopathic education, and lead the way in Washington State being the first program with ACGME accreditation and Osteopathic Recognition.
Being on the front edge does make us different at times.  Beginning with the 2017 match we will, for the first time in over a decade, participate only in the NRMP match.  It is with some regret that we leave the NMS, but we have always been looking ahead we felt it important to begin the future this year.  As always, we will continue our strong commitment to osteopathic education, track record of 100% passage of AOBFP boards, and 100% dual certification of our DO graduates (ABFM as well as AOBFP).
We have added two osteopathic faculty, and have increased our resident's exposure to osteopathic medical students from Pacific Northwest University.
I know for some of our OMS IV students there are some questions and uncertainty over the match.  What I can tell you with certainty is that if you join our program you will graduate from an accredited program – and graduate with dual board certification.
If you have further questions, please let any of us know. cwfmr@chcw.org
Russell Maier, MD
Program Director
Patrick Moran, DO
Associate Program Director for Osteopathic Education
Trevor Barritt
Recruitment & Community Relations Coordinator