Yakima Valley
Economy and Demographics
The Yakima Valley is one of the most agriculturally productive regions in the United States. Yakima County leads all other US counties in production of apples, mint, winter pears, hops and sweet cherries. Tourism and business expansion are being driven by the exploding wine industry, outdoor recreation, area history, great weather, affordable housing and our proximity to major metropolitan areas. Aerospace, healthcare and manufacturing are experiencing significant growth. Visit the Greater Yakima Chamber of Commerce or Yakima County Development Association to learn more.
The Yakima Valley is culturally diverse with some 50% of its people of Latino descent. Much of the Lower Yakima Valley and South Central Washington lie within the 1.4 million acre Yakima Indian Reservation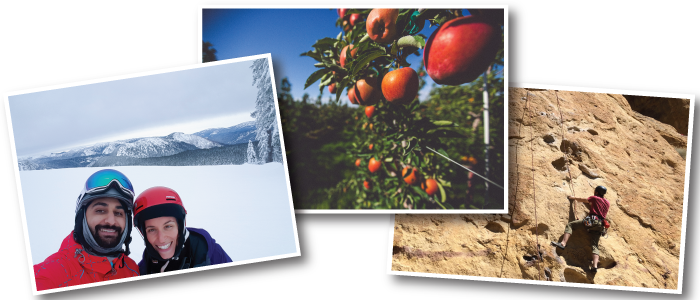 Education
Education is a high priority in the Yakima Valley. There are a number of public school districts and several private schools. There are also post-secondary and post-graduate opportunities, including a new medical school.
Shopping
There is an abundance of national and local jewelry, furniture, grocery, book, clothing, discount, electronics, pet, specialty and niche stores located in Downtown Yakima and throughout the city. Locally owned and nationally known hardware stores and a number of nursery, outdoor and building supply retailers are available for DIY enthusiasts. All of the major automobile manufacturers are represented by local dealerships.
Every Sunday, May through October, the downtown Yakima Farmers Market offers an unbelievable array of fresh fruits and vegetables and local crafts. From spring through fall there are plentiful fruit and vegetable stands conveniently located throughout the area selling fresh, locally grown produce at great prices. You can also visit many of the Valley's farms where you can purchase directly from the source.
Housing and Real Estate
A resident's salary goes further in Yakima. Affordable rental, lease or purchase housing is readily available, close to both of Yakima's hospitals and the CHCW Family Medicine Center. Homes, property and rentals are priced significantly lower here than in the major Northwest metropolitan areas. There is a good supply of properties in most price categories and there are opportunities to live in an urban, suburban, rural or mountain home with an easy commute. To review local properties for sale or rent, visit Yakima-Homes.com, or Yakima Association of Realtors.