Enjoy Ellensburg
About The Valley
Ellensburg is located in the central part of the State of Washington in the heart of the Pacific Northwest. Less than an hour and half from Seattle and the Puget Sound and just over 30 minutes from Yakima, Ellensburg offers big city amenities and historic small town charm.
The Ellensburg area provides tremendous opportunities for education, local art, entertainment and outdoor recreation. Ellensburg is minutes away from hiking, biking, camping, canoeing, rafting and horseback riding. You can go hunting or fishing, you can enjoy the Ellensburg Rodeo and other community, regional and seasonal events. Ellensburg is also home to Central Washington University.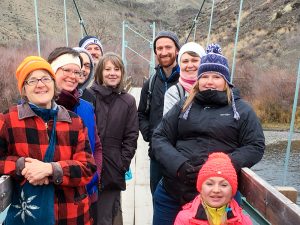 The Kittitas Valley
Economy and Demographics
Agriculture is the primary industry in Kittitas Valley. The agriculture opportunities include: hay and grain producing, apple and grape growing and cattle farms. Tourism and business expansion are being driven by the exploding hay, grain and grape industry, Central Washington University, outdoor recreation, history of the area, great weather and affordable housing. Visit the Kittitas Country Chamber of Commerce to learn more.
Education
Education is a high priority in the Kittitas County. There are five school districts within the area and a division two university located in Ellensburg.
Shopping
Downtown Ellensburg is pedestrian friendly and offers unique boutiques for fine shopping and a variety of local eateries to choose from. There is something for everyone; from a long-time family owned local furniture store Fitterer's Furniture to antique shops, jewelry, and clothing stores like Flirt and Maurices. Ellensburg offers convenient neighborhood pharmacies, regional supermarkets and major automobile dealerships.
Every Saturday, May through October, the downtown Kittitas County Farmers Market in Ellensburg offers an incredible display of fresh fruits, vegetables, baked goods, plants and local crafts. From spring to fall there are abundant fruit and vegetable stands conveniently located throughout the area selling fresh, locally grown produce at affordable prices.
Real Estate
The Kittitas Valley is a great place to live. It is "family friendly" and has strong community support. A resident's salary goes far in Ellensburg. Affordable rental, lease or house purchase is readily available, close to the Ellensburg Hospital and the CHCW-E Clinic. Homes, property and rentals are priced significantly lower here than in the major Northwest metropolitan areas. There is a good supply of properties in most price categories and there are opportunities to live within the downtown or rural area with an easy commute. To review local properties for sale or rent, visit Ellensburg Property or Ellensburg Homes for Sale.
Central Washington Recreation
Central Washington offers outstanding outdoor recreation, fine restaurants, world-class wines, entertainment venues and events, college sports, and a quality of life second to none. Whether you favor the outdoors, or prefer your fun inside, there's something for everyone. There's skiing The Summit at Snoqualmie Ski Resort, fishing, camping, white water rafting, hunting, horseback riding, boating, (Yakima River Canyon River Scenic ByWay) the National Ellensburg Rodeo and abundant state parks. Opportunities to participate in many running events such as: the Whisky Dick Triathlon and the Canyon River Marathon.
There are concerts, stage productions, top-name performers, museums Kittitas County Historical Museum, Clymer Museum, Ellensburg Frontier Village, nightlife and art galleries Gallery One. There are a number of annual Ellensburg events including the Kittitas County Fair in the fall and Jazz in the Valley. Attend the second longest-running Western art show "Art Show & Auction," "Dachshunds on Parade," and "Winter Brew Fest. The website Visit Ellensburg offers more information on local events.